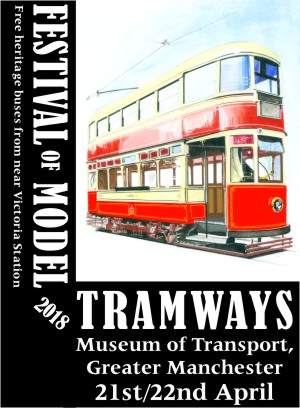 The 2018 Festival Of Model Tramways
The Festival of Model Tramways is the premier national event for the model tram enthusiast.
The 2018 Festival will be held on 21st & 22nd April at the Museum of Transport, Greater Manchester, Boyle Street, Cheetham, Manchester, M8 8UW.
The admission charges will be Adult £7.50, Concessions £6.50. Opening times are 10am to 5pm.

Now in its thirtieth year, this national exhibition features the highest quality model tramway layouts and displays. There are sales stands to supply the modeller with all the necessary materials, kits, drawings, photographs, books etc., for model tram building. There is a competition, with a trophy given for the best model tram of the show (no competition entry fee, just bring along your models).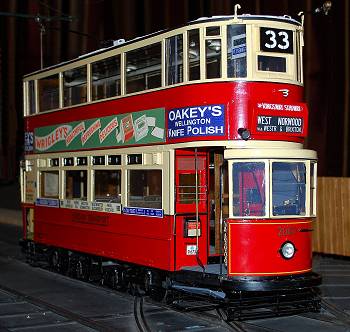 In previous years the exhibition has alternated between the Kew Bridge Steam Museum and venues further north such as the National Tramway Museum at Crich in Derbyshire, the Birmingham and Midland Museum of Transport at Wythall and the Museum of Transport, Greater Manchester, now our regular northern venue. The 1998 Festival, held in Fleetwood, was one of the events held to celebrate the centenary of the Blackpool and Fleetwood Tramroad. In 2013 we moved to the prestigious Fairfield Halls, Croydon (1:16 London model by Terry Russell shown in Croydon - left) but as this closed for renovation in 2017 we returned to the Kew Bridge Steam Museum, now known as the London Museum of Water & Steam.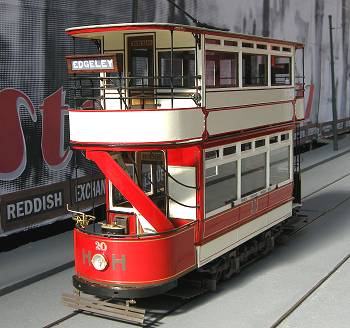 For 2018 we are back in Manchester (1:16 Stockport model by Greg Marsden shown in Manchester - right).
The museum is close to Manchester Fort Shopping Park. There will be a free heritage bus service between Manchester Victoria (bus stop NU) and the Festival.
Get a free downloadable high quality A4 size poster for the show in PDF format.
The latest news of the Festival of Model Tramways will appear on this page as soon as it becomes available.
Festival Links
---
Previous Festivals
There are also a number of films of the Festival on our Videos page.

Contact the Festival Manager, John Prentice




facebook.com/tramwayfestival


Tramway Information Homepage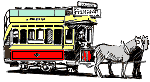 Add the Festival of Model Tramways to your favorites

Reload Home if you linked directly to this page



© Copyright John R. Prentice Software 2017